Below are a few yoga and wellness events in the East Bay Area, followed by the latest Yogapedia podcast and a good read from the Greater Good Science Center.
Bay Area Events
May Day Yoga Dance @ North Berkeley Library
Wednesday May 1, 11:00 AM-12:00 PM
North Branch Berkeley Public Library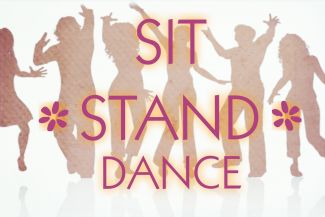 Please join Angela, an instructor from Big Yoga Life, for a very special May Day version of
Sit Stand Dance
, a fun new event that blends meditation, yoga and dance. We will start with a brief meditation, chair yoga (sitting and standing) and then moving our bodies in a free-flow dance. You will have the option to sit down and pause at any point during the event. Our main focus be about your own personal experience with movement and what feels good to you to move.
These take place the first Wed. each month,
11:00 AM-12:00 PM
.
FREE! Sponsored by the Friends of the Berkeley Public Library
---
Yoga for UC Berkeley Staff
Friday, May 3, 12:10 – 1 PM
251 Hearst Gym, UC Berkeley Campus
This is the final class that I teach for UC Berkeley faculty and staff during the spring semester, but I'll be back in the fall! Come early and you'll get to try  aromatherapy oil to relieve stress. Please bring your own yoga mat as our supplies are limited. We'll breathe, move, meditate, and relax.
Reminder: Bring your passport to have the last square stamped for the Yoga Passport Challenge prize. Get a bonus entry for filling out the evaluation that is emailed to attendees after class.
If you can't attend my class, stop by Llamapalooza, details below!
---

Llamapalooza 2019
Friday, May 3, 12 – 3 PM
Memorial Glade, UC Berkeley Campus
I have to admit, I love working at the University of California Berkeley, in part because of the fun events like this! The llamas are brought to campus each semester to help students de-stress during finals. They're gentle, majestic creatures that are well cared for by their shepherd and student volunteer handlers. It's really fun to see them walk around the lawn with students taking llama-selfies. This is for the benefit of students, but it is open to anyone on campus. If you want to enjoy a fun Berkeley day, get some takeout lunch and have a picnic on the steps of the library or in the shade of the trees on the east up-slope of the lawn. Read more about it on the Facebook event.
Hosted by ASUC Office of the Academic Affairs Vice President.